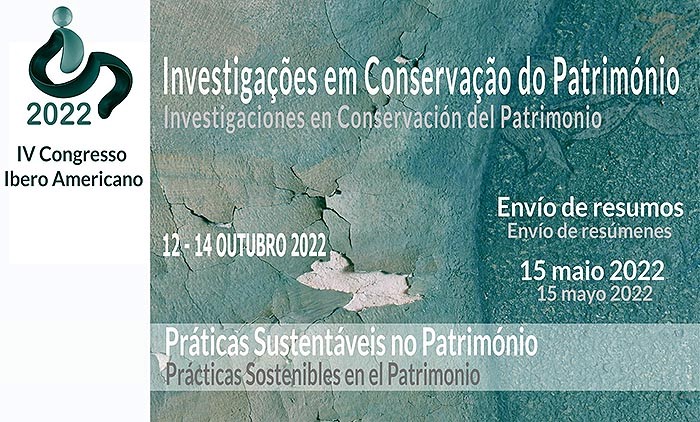 Está abierto el período de envío de resúmenes para comunicación o póster al IV Congreso Ibero-Americano Investigaciones en Conservación del Patrimonio, este año sobre el tema "Prácticas sostenibles en el Patrimonio".

Tendrá lugar del 12 al 14 de Octubre de 2022, presencial y con transmisión online (vía Zoom) en el Museo de la Farmacia y en la Facultad de Bellas-artes de la Universidad de de Lisboa.
Website oficial del Congreso:
CALL FOR WORKS | IV IBERO-AMERICAN CONGRESS RESEARCH IN HERITAGE
The period for submitting abstracts for communication or posters to the IV Ibero-American Congress on Research in Heritage Conservation is open, this year on the theme "Sustainable Practices in Heritage".
It will take place from October 12 to 14, 2022, in person and with online transmission (via Zoom) at the Pharmacy Museum and at the Faculty of Fine Arts of the University of Lisbon.